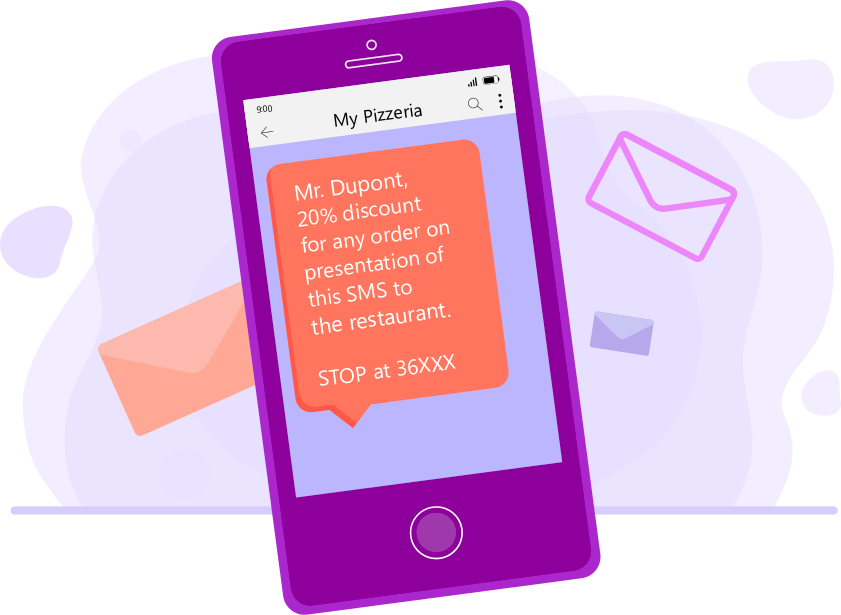 Sending text messages (SMS)
Text messageis the simplest way of communicating.
For commercial or marketing messages in France, make sure to send your SMS from Monday to Saturday between 8am and 8pm (excluding Sundays and public holidays).
Keep in mind that the best times for a marketing campaign are during lunch break or after 6pm when your target audience is more available and receptive to this type of messages.
How well
build your campaign

What objective(s) do you want to achieve? Communicate on a particular offer? Generate traffic in shop? Organise a private event?

02

Customize

your message
The more personalised your message is, the better it will be interpreted by the target! Write a synthetic message to increase its effectiveness.

Which target group do you want to reach in particular? Your entire database? 25-35 year olds? The inhabitants of the Ile-de-France?

04

Schedule

your campaign
Improve the effectiveness of your campaign
by scheduling messages to be sent
at the most appropriate times.

05

Analyse

your performances
Track the delivery of your
your campaigns in real time,
thanks to the sending statistics,
acknowledgements of receipt, etc...
Text SMS
for marketing use
Text SMS
for service use